BMFA Slope Nationals 60" Foamy Pylon Racing
Hole of Horcum – North York Moors 10.6.2006
By Steve Clarke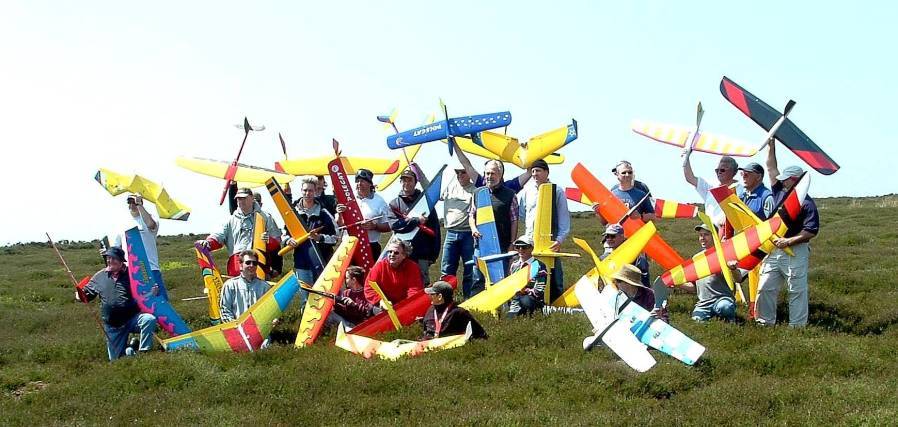 As well as being the National Championships, this meeting was also the third of the series of six in the BMFA National League which take place over the summer. Rather than a blow by blow report on the competition this is a personal account of the day from my own perspective as a relative newcomer to the competition. I'm presenting it in this way not because I'm daft enough to imagine anyone is interested to know how I did but because it is a good way to give the flavour of what participating in these pylon race meetings is like, especially for anyone thinking about giving it a try.
I arrived at the spectacular geographical feature which is the Hole of Horcum sufficiently early to be able to get some final trimming flights in and select ballast before the start of the comp. The wind was blowing a healthy 15mph+ from the ESE and the sun was shining. Although the lift was strong it was not without some bumpiness. Nevertheless, a good day's racing was in prospect, starting with the league section of the contest. With 27 competitors to accommodate, each round would consist of 7 races. A "focussed matrix" is employed which means that your race result determines who you fly against in the subsequent round. Winners fly winners, 2nd placers fly others who came second and so on.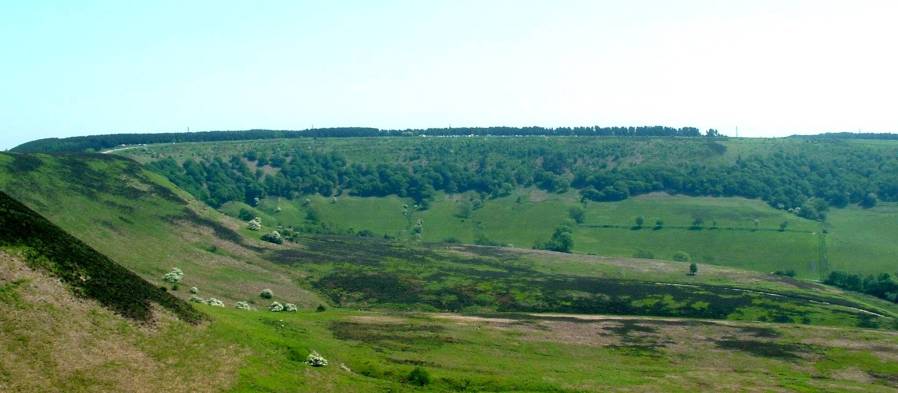 The spectacular Hole of Horcum looking East back towards the car park
Seconds out..... Round One!
At the start of each race one launches on the command of the race director and climbs out for maximum height while a 30 second count down is called out. Aim to enter the course at base A just on the count of zero and not before! Then it's all about lining up and anticipating those turns to minimise overflying beyond the bases while watching to maximising the amount of energy retained in the turn. As the competition progressed the wind moved slightly off the hill to the right (S). Competitors found that travelling the 70 metres from base A to B was quick while from B to A was slow. Moreover, in the crosswind, the turns at base B required careful set up and execution to avoid losing excessive energy in the somewhat unpredictable air. Full reversals (flip inverted and pull back on the stick) are generally preferable but they didn't always work. The tailwind component whilst travelling in to base B could mislead you into thinking that you had enough airspeed to pull a clean reversal when you didn't!

Launch at base A with the flag men on the horizon at base B
During round 2 I had a bit of a mid-air collision with Andy Ellison's NCFM 60" Half Pipe! We just clipped wing tips as he was coming out of a turn and I was going in. Andy recovered OK but one of my NCFM M60's elevons was partially unhinged and after limping through one more turn my draggy and only partially controllable plane was blown back to terra firma at the top of the slope. The only positive was that, switching to my back up plane, I was pitched against 3 other 4th placers in the next round and I managed to win my race. This despite cutting base A early in the race and totally messing up the recovery. The calm voice of my caller, Fred Seaman, in my ear telling me to "just relax" had no small part to play! Of course the down side of winning a race is that the focussed matrix puts you up against stiffer competition in the next one!

Two turn at base B
Throughout all of this one has to take one's turn flagging and calling for other pilots and it is while flagging some of the Top Gun's planes that you realise just how good these guys are. Turning is all about anticipating the flag and to see a competitor consistently managing his turn so that the outermost point of its radius just occurs outside the base is to realise that one has a lot to learn! Of course flying like this risks the dreaded "cut" and even the best slip up occasionally!
At the end of round 5, computation of the scores from all of the rounds placed Alex McMeekin on top with Paul Wright and David Elam joint second.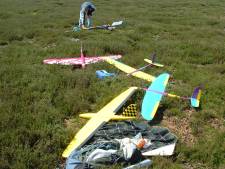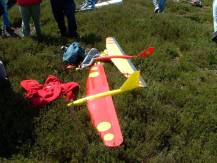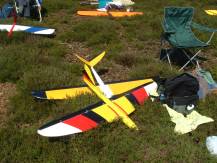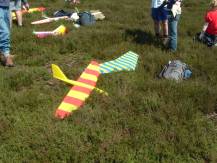 Examples of the type from Paul Wright, Fred Seaman and others. Sorry I don't know everyone's names yet!
It's a Knockout!
The knockout section of the competition followed. Only 1st and 2nd progress to the next round! I hope you will indulge me in this account of my first and only race in this section as I feel it exemplifies how gripping pylon racing can be. As the race started I entered the course in the lead but soon found myself 3rd behind local boy Harry Stuart. Alex McMeekin was calling for me and after a couple of laps I realised that, just at the time when I was starting to flip inverted at base B Alex was already calling "turn". I wasn't anticipating at all and, aided by the cross wind, was flying base B very long. So I got a grip on myself and started to make sure I was upside down before I got the call to turn. After a few more hard fought laps I had passed Harry and had a reasonable lead on him. But then I totally muffed up turn 8 at base B. I don't know how I did it but it all just fell apart and I lost all my energy. When I came out of the turn Harry had a nice lead on me! I got a bit stoked at this point and by the time we came out of turn 9 I was closing the gap again. "You've got to dive, you know it's worth it" says Alex's voice in my ear and both planes headed for deck. We crossed the finish line almost neck and neck with me skimming the valley floor just behind Harry. Stimulating stuff!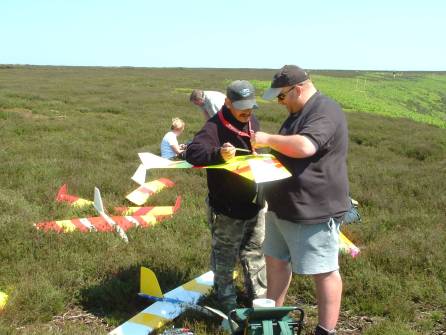 Andy Ellison scrutinises Ron Lampe's plane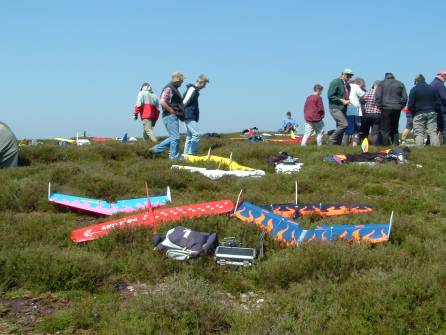 Ron Broughton's hangar of own designs
The knockout tournament was a cracker from beginning to end and culminated in a gritty 20 lap final was won by Alex McMeekin with sterling performances by Andy Ellison, Paul Wright and competition newcomer David Elam – definitely a name to watch! After this Alex and runner up Andy were pitched in a 2 man fly off over 25 laps to determine the National Championship. This race was an unbelievable nail-biting cliff hanger with the lead constantly changing and superb flying skills being displayed by both. The level of concentration and skill required to fly with such consistency and precision over such a long race is a gift not possessed of many. It was a privilege to watch and was won by Alex who was duly crowned.
In the course of the day I witnessed some spectacular displays of skill from some of the Nation's finest and some truly exciting close pursuits which just left me grinning! The day was punctuated by the usual and inevitable crop of mid-air collisions and it is interesting to note that, although there is a lot of bravado about these all being part of the fun, each unmistakeable "thwack" of EPP on EPP is followed by a chorus of vicarious yelps of pain and groans of sympathy from the rest of the competitors. A notable incident was a collision which resulted in the removal of the entire tail fin from one competitor's PMP Rampage. As the groans died away it became clear that the model was going to remain airborn and a crescendo of roars of encouragement arose. The pilot managed to complete another 2 laps before succumbing to the twin ravages of wind and gravity!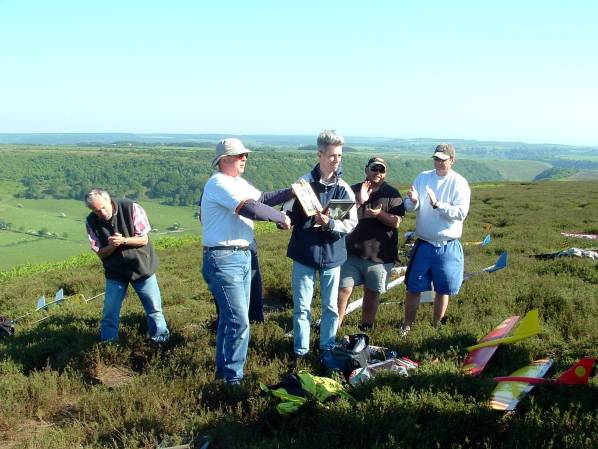 I'm sure all who attended the day would join me in offering their thanks to Contest Director Paul Wright who's hard work yielded such a successful and smoothly run competition and to the NYMRSC for the use of their excellent flying site.
Final results were as follows:
National Title race
(25 laps – 2 pilots):
1st Alex McMeekin
2nd Andy Ellison
BMFA League 3 results.A full breakdown is available at http://www.rc-soar.com/bmfa_league/comps/2006/epp60/index.htm :
League Section:

Knockout section:

BMFA League competition:

Final scores for the day

| | | |
| --- | --- | --- |
| 1 | Alex McMeekin | 50 |
| 2= | Paul Wright | 49 |
| 2= | David Elam | 49 |
| 4= | John Bennett | 47 |
| 4= | Andy Ellison | 47 |
| 6 | Mark Abbotts | 45 |
| 7 | Mike Evans | 44 |
| 8= | Steve Clarke | 43 |
| 8= | Paul Potter | 43 |
| 8= | Nigel Potter | 43 |
| 11= | Peter Bailey | 40 |
| 11= | Mike Shellim | 40 |
| 11= | Jon Edison | 40 |
| 11= | Frank Hulton | 40 |
| 11= | Dave Tuckwood | 40 |
| 16 | Colin Walsh | 35 |
| 17= | Sharkey | 34 |
| 17= | Ron Broughton | 34 |
| 17= | Harry Stuart | 34 |
| 17= | Bernie Hunt | 34 |
| 21= | Tim Shaw | 30 |
| 21= | Ron Lampe | 30 |
| 23 | Fred Seaman | 28 |
| 24 | Paul Townsend | 27 |
| 25 | Ian Mason | 26 |
| 26 | Brian Bates | 25 |

| | | |
| --- | --- | --- |
| 1 | Alex McMeekin | 50 |
| 2 | Andy Ellison | 49 |
| 3 | David Elam | 48 |
| 4 | Paul Wright | 47 |
| 5 | John Bennett | 46 |
| 5 | Mike Shellim | 46 |
| 7 | Paul Townsend | 44 |
| 7 | Peter Bailey | 44 |
| 9 | Mark Abbotts | 42 |
| 9 | Bernie Hunt | 42 |
| 9 | Paul Potter | 42 |
| 9 | Nigel Potter | 42 |
| 13 | Jon Edison | 38 |
| 13 | Harry Stuart | 38 |
| 15 | Frank Hulton | 36 |
| 15 | Dave Tuckwood | 36 |
| 15 | Tim Shaw | 36 |
| 15 | Fred Seaman | 36 |
| 15 | Colin Walsh | 36 |
| 15 | Brian Bates | 36 |
| 15 | Mike Evans | 36 |
| 15 | Sharkey | 36 |
| 15 | Steve Clarke | 36 |
| 15 | Ian Mason | 36 |
| 15 | Ron Lampe | 36 |
| 15 | Ron Broughton | 36 |

| | | |
| --- | --- | --- |
| 1 | McMeekin | 100 |
| 2 | David Elam | 97 |
| 3 | Andy Ellison | 96 |
| 3 | Paul Wright | 96 |
| 5 | John Bennett | 93 |
| 6 | Mark Abbotts | 87 |
| 7 | Mike Shellim | 86 |
| 8 | Paul Potter | 85 |
| 8 | Nigel Potter | 85 |
| 10 | Peter Bailey | 84 |
| 11 | Mike Evans | 80 |
| 12 | Steve Clarke | 79 |
| 13 | Jon Edison | 78 |
| 14 | Frank Hulton | 76 |
| 14 | Dave Tuckwood | 76 |
| 14 | Bernie Hunt | 76 |
| 17 | Harry Stuart | 72 |
| 18 | Paul Townsend | 71 |
| 18 | Colin Walsh | 71 |
| 20 | Sharkey | 70 |
| 20 | Ron Broughton | 70 |
| 22 | Tim Shaw | 66 |
| 22 | Ron Lampe | 66 |
| 24 | Fred Seaman | 64 |
| 25 | Ian Mason | 62 |
| 26 | Brian Bates | 61 |