Wales was host to the 2013 race. 23 pilots from all over the UK who had qualified in their local F3F Winter League Series, were invited to battle it out for the title of Champion of Champions. Little did they realise that the battle would be with the weather and not amongst themselves!
Whilst the rest of the UK was suffering from horrendous snowfalls and the coldest March for some years, South Wales appeared to be getting away unscathed. Wro-ooong! Climb up a few hundred meters into the Welsh hills, and the dreaded white stuff was there, together with a wind chill to make the Arctic seem tropical!
Saturday was the warmer of the two days ( a relative term believe me ), but hill fog completely shrouded the area making flying impossible. A visit to McDonald's and a chat in the food hall at the Sarn Services, whiled away the day, before the customary meeting in the evening for a curry.
Sunday dawned brighter and there was real hope that a competition could be completed. It was soon evident that whilst the hill fog was not as extensive, and may even just lift enough to enable the comp to start, the real killer was the cold. With and air temp of -4 degC and a wind chill of -16 degC this was for the brave only.
Common sense eventually prevailed, and the comp was called off.
However one wee chappy did get to fly. Maybe we should adopt him as our Winter League mascot!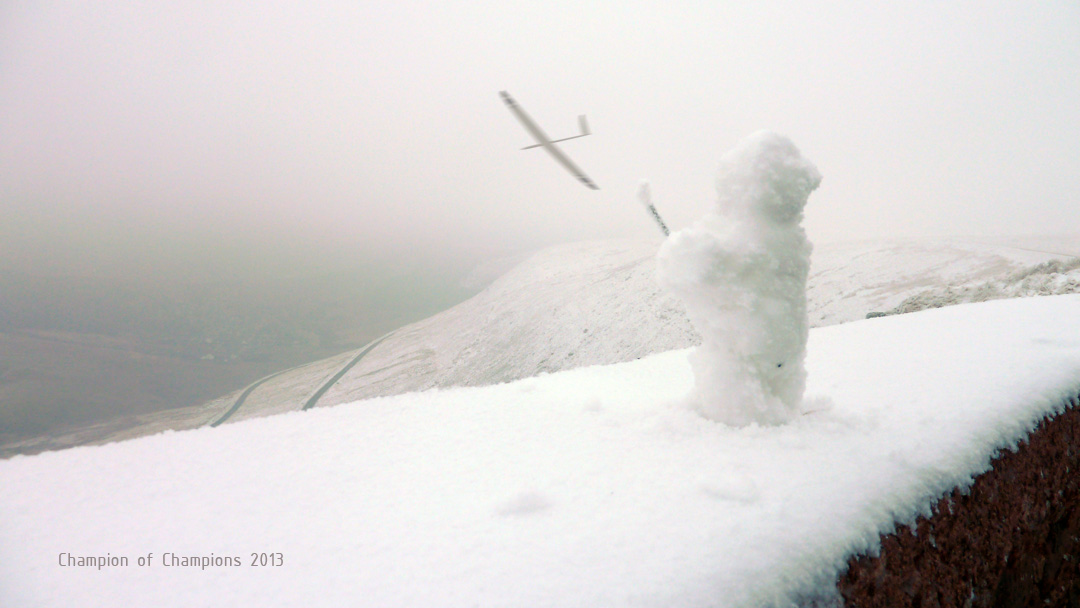 Mike Evans Picture