F3F TIMER PROJECT by Jon Edison
Created November 2018
Expanded Scale Voltmeter
It is useful to know the state of charge of the Lipo battery used for powering the F3F Timer described elsewhere. A Lipo has a useful voltage range of 3.1v to 4.2v per cell. Thus the 3S lipo used for the Timer can be considered to be flat at 9.3v, and fully charged at 12.6v.
This voltmeter uses a LM3914 IC, and by modifying the input configuration, the IC can be made to represent any voltage range. In this case it is arranged to show 9.0v to 12.6v.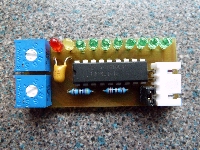 Components required
| Item | Name | |
| --- | --- | --- |
| R1 | 4K7 0.6w Metal Film | |
| R2 | 1K2 0.6w Metal Film | |
| VR1 | 5K Multiturn Pot | |
| VR2 | 5K Multiturn Pot | |
| C1 | 10uF x 35v Tant Bead | |
| LED1 | 3mm Red LED | |
| LED2 | 3mm Yellow LED | |
| LED3 to LED10 | 3mm Green LEDs | |
| ICI | LM3914 | |
| SK1 | JSH XH 4pin 90deg | |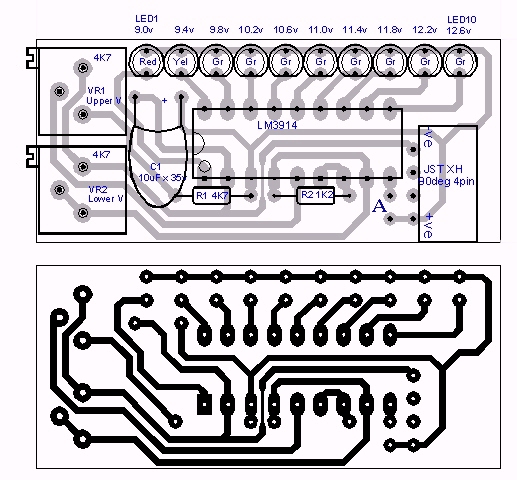 Pcb size is 2.0" x 0.88" ( 50mm x 22mm ). Click above image for actual size print. Photo etch the board and drill all holes 0.8mm. Open up the holes for the two potentiometers and the JST socket to 0.85mm. Assemble in any order to suit your own preferences. Check for solder bridges etc, before applying power.
To setup the display, apply 12.6v to the input. Adjust VR1 until the RHS Green LED10 is just lit. Reduce the voltage to 9.0v and adjust VR2 until the LHS Red LED1 is lit. Check adjustments several times until the LED's light as required.

NB this voltmeter can be set as a 'DOT' display, ie only one LED is lit at any one time, or a 'BAR' display where an increasing number of LED's are lit as the voltage increases. The DOT display keeps the load on the battery down to a minimum, and by default is set to DOT display.
Adding a link across the pads at point 'A' will convert it to a BAR display.
Disclaimer
I have no connection with any of the companies listed above, any links given for information only, and for use at your own risk. All information is provided in good faith and without liability.
Return to Top
Return to Previous Page

Jon Edison
Nov 2018